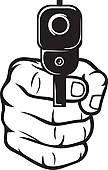 Statist claim: I See No Gun.
Fallacy:
"You keep talking about taxation and regulation at gunpoint. I don't see any gun! When I pay my taxes, there's no gun to my head."
Response:
The fact that most submit before the gun is drawn doesn't negate the existence of the gun. (KH)
Related: Taxation Is Extortion.