Statist claim: Anti-trust laws are necessary.
Fallacy:
Without antitrust laws,
we would all die
.
Response:
The Antitrust laws—an unenforceable, uncompliable, unjudicable mess of contradictions—have for decades kept American businessmen under a silent, growing reign of terror. Yet these laws were created and, to this day, are upheld by the "conservatives," as a grim monument to their lack of political philosophy, of economic knowledge and of any concern with principles. Under the Antitrust laws, a man becomes a criminal from the moment he goes into business, no matter what he does. For instance,
If he charges prices which some bureaucrats judge as too high, he can be prosecuted for monopoly or for a successful "intent to monopolize";
if he charges prices lower than those of his competitors, he can be prosecuted for "unfair competition" or "restraint of trade";
if he charges the same prices as his competitors, he can be prosecuted for "collusion" or "conspiracy."
There is only one difference in the legal treatment accorded to a criminal or to a businessman: the criminal's rights are protected much more securely and objectively than the businessman's. (Ayn Rand lexicon)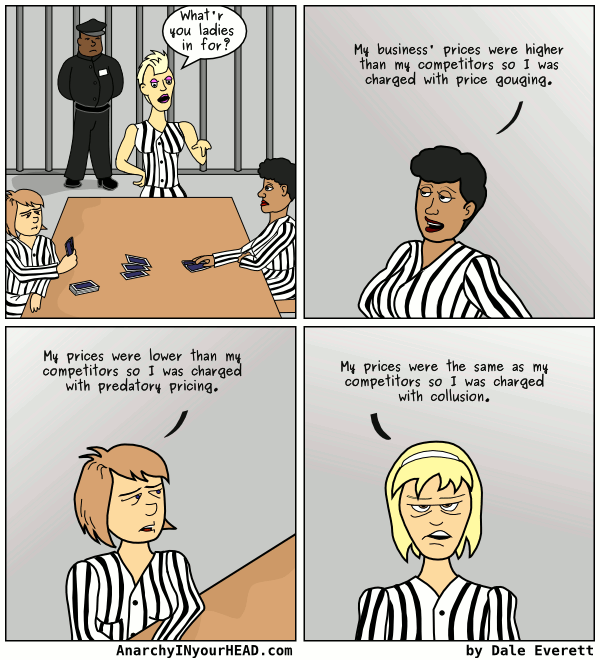 ---
America's Persecuted Minority: Big Business by Ayn Rand.